Lux Helsinki to light up the city with several works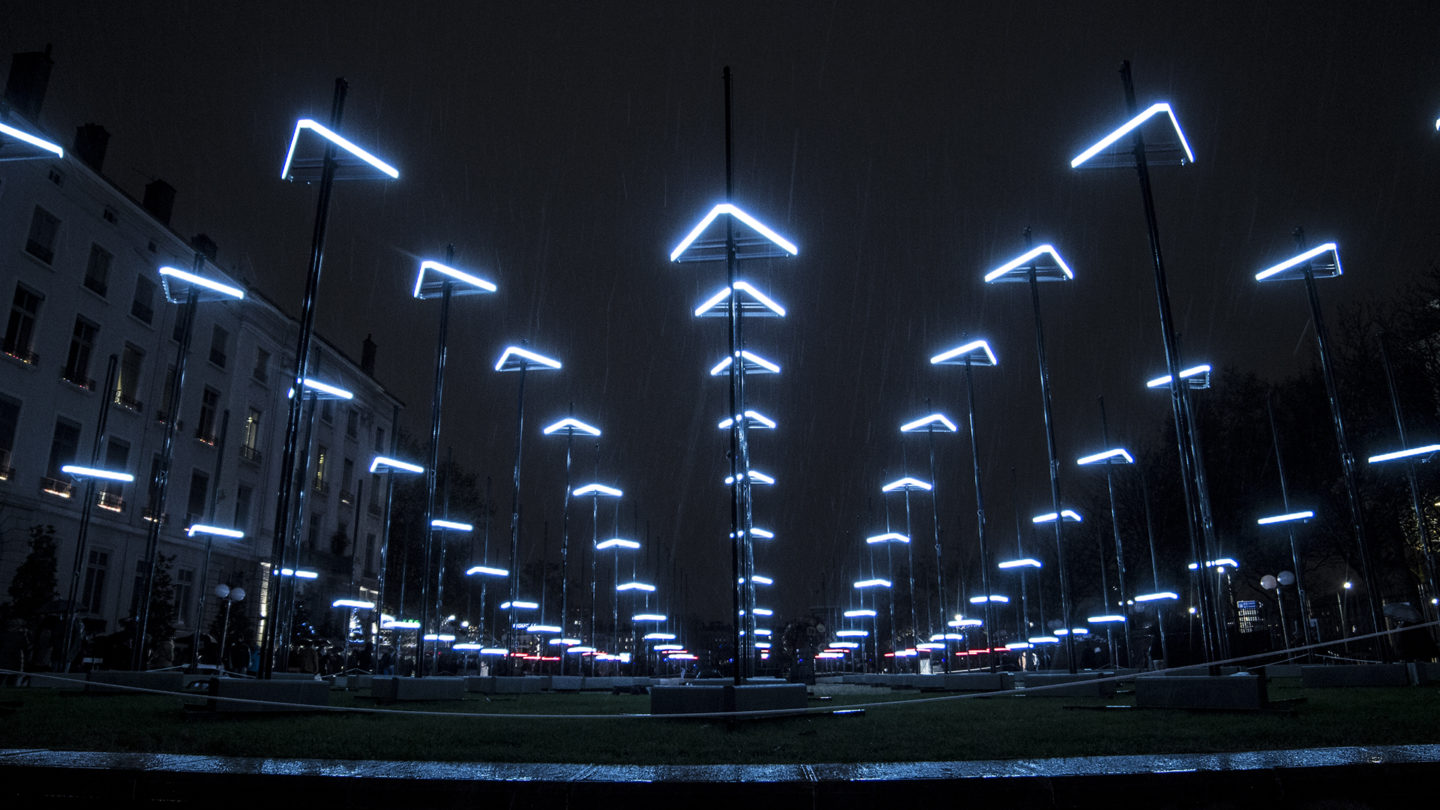 The heart of winter will be pulsating with light in Lux Helsinki on 4-8 January 2023. Almost 20 works, ranging from a more than 18-metre kinetic light sculpture to the festival's first work benefiting from AR technology, can be seen in the downtown, Ruoholahti and Suvilahti.
Familiar buildings and spaces will again be transformed into unique artworks when Lux Helsinki creates a magical atmosphere of light art across the city. Three impressive collections of artworks can be experienced in the downtown, Ruoholahti and Suvilahti on 4-8 January 2023 from 17–22.
The collection of artworks in the downtown will extend from Kansalaistori to the TAHTO Center for Finnish Sports Culture at the Olympic Stadium. Kansalaistori will feature one of the most massive installations in Lux Helsinki as Abstract, by the French lab Collectif Coin, brings together movement, sound and light and takes over the square with column of force towering 81 metres high. In Töölönlahti park, French studio Pitaya's more than 18-metre Whale Ghost – a creature resembling the skeleton of a marine mammal, perhaps the ghost of the last of its kind – rises above the public. Check out the collection of artworks in the downtown.
The collection of artworks in Ruoholahti will go from Ruoholahdentori to the Cable Factory. Rising up over Ruoholahdentori, Growth, by the Dutch foundation Hypar Collective, is an interactive light installation where the public can follow the growth journey by activating different elements. The MUU Helsinki Contemporary Art Centre in the Cable Factory will feature Analemma, an immersive work by Yasuhiro Chida, a Japanese artist who loves Finnish design. The work invites the viewer into the midst of countless light particles and phenomena. Check out the collection of artworks in Ruoholahti.
The collection of artworks in Suvilahti will spread over outdoor spaces and also into Kattilahalli and the gasometer. The Suvilahti area will feature Frenchman Romain Tardy's The Great Indecision Council, which in real time translates the most looked-up words in Google into audiovisual signals and invites the public inside the hypnotic installation. While working as a VJ, Tardy has collaborated with Jay-Z and Flying Lotus, for example. World-famous Italian light artist Massimo Uberti's Domus Aurea, golden house, will have its world première at Lux Helsinki when it rises up in Kattilahalli. Check out the collection of artworks in Suvilahti.
"The more people who turn off their lights and home and head for Lux, the better"
The theme of Lux Helsinki 2023 is change, which will be reflected not only in artistic content but also in implementation when one route changes into several showcases. This leaves more room to experience the art. Nevertheless, the programme has been designed so that all art showcases can be seen in one evening if desired.
Juha Rouhikoski, Lux Helsinki's artistic director, is pleased that people will now have more space to enjoy the top-quality, inspired programme at their own pace.
"The best thing about light art is that everyone experiences the light and the light works in their own way – the thought and gaze often turn to the viewers themselves. Light speaks all languages. Stop, look, listen and let the art of light take over your mind and world," Rouhikoski says.
Helsinki Events Foundation, which organises Lux Helsinki, considers that the experiences, joy and communality brought by light art are important also in the prevailing situation.
"In terms of energy efficiency, the biggest possible event is in fact a good thing as far as energy consumption is concerned. Energy is always consumed by people in their free time and the more people who turn off their lights and sauna at home and head to see Lux Helsinki's works, the better," says Stuba Nikula, CEO, Helsinki Events Foundation.
Lux Korkeasaari light artworks can be enjoyed from 26 December
The third Lux Korkeasaari will be open from 26 December 2022 to 8 January 2023 from 10–19. The island of animals will feature among other things Tentacles by Filthy Luker and Pedro Estrellas, who have garnered an international reputation with their humorous anarchistic pop-up installations, and Finnish Ghost Project's Cuckoo Village, a playful and imagination-stimulating light art work that marvels the sense of communality.
There is a separate admission charge to Lux Korkeasaari. €1 from each admission ticket and for each visit with an annual pass will be donated to snow leopard conservation work. Earlier events have already raised more than €45,000. The money raised has been used to buy all terrain cameras and GPS collars that are used to study wild snow leopards.
You can read about all Lux Helsinki works and artists on the Lux Helsinki website. More programmes will be announced in December.
Lux Helsinki is a free, accessible event for the whole family from 4-8 January 2023 from 17-22. Lux Korkeasaari runs from 26 December 2022 – 8 January 2023 from 10–19 and is subject to an admission charge. The festival is organised and produced by Helsinki Events Foundation. Lux Helsinki's artistic director is Juha Rouhikoski, whose curator team also includes Immanuel Pax, Lari Suominen, Mia Kivinen and Ilkka Paloniemi.
Lux Helsinki's partners are Korkeasaari Zoo, the Italian Cultural Institute, Polestar and Yle.
Image: Collectif Coin – Abstract