Light art adorns the iconic Forum in festive attire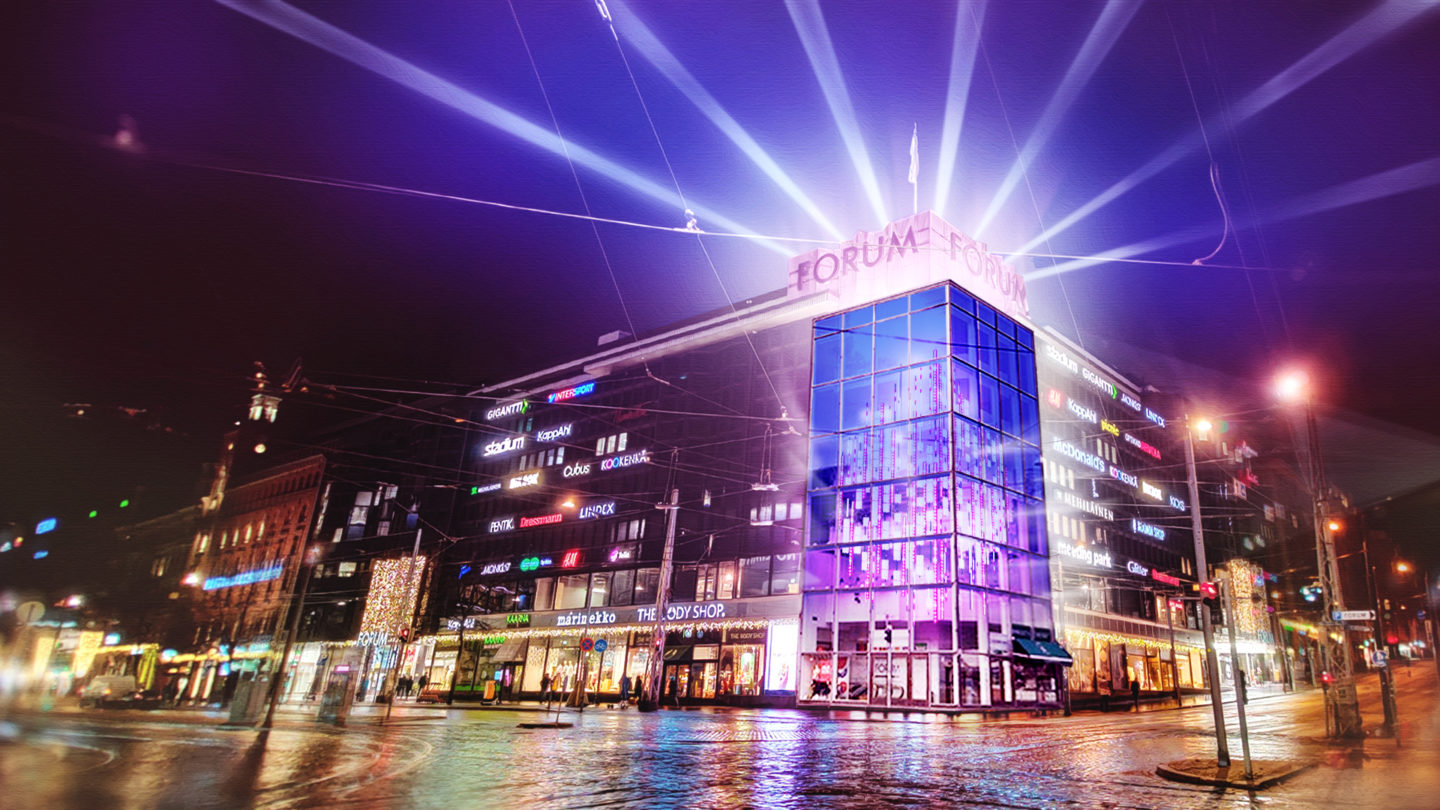 The Forum and City Center shopping centres are both an organic part of Helsinki downtown and urban culture. Both sister shopping centres will feature their own Lux Helsinki light artworks to accentuate their iconic locations in the heart of Helsinki. Otso Vartiainen's spectacular works Bling the Roof and Pixels are studies of what happens when the tools and aesthetics of the entertainment industry are harnessed to create light installations in the urban realm.
The Forum shopping centre hopes Pixels will spread joy throughout the downtown. The spectacular work will bring a sense of luxury and brighten up the darkest time of the year.
"We want to contribute to maintaining the vitality of the centre of Helsinki, while making it an easily approachable and safe place for everyone to spend time in. Events like Lux are an important means to this end," says Mervi Jäntti, Shopping Centre Director.
Known as the busiest corner of the city, there is never a dull or quiet moment in the Forum shopping centre since it is bursting with life, movement and businesses. Forum has been part of urban culture in Helsinki since 1952, when it was built for the Helsinki Olympics.
"The entire history of Forum has involved culture in various forms: literature, photographic and sculptural art, and musical events. Besides this, important works of art in various parts of the shopping centre are an integral part of its architecture. Given this backdrop, we thought it a natural continuum to take part in the light art festival," says Mervi Jäntti.
The protected glass corner of Forum is an iconic sight on the corner of Mannerheimintie and Simonkatu. What better way to open the Forum's 70th anniversary year than an artwork in this milieu? At the same time, Forum welcomes visitors to Lux to a relaxing shopping and coffee break as part of their light art tour.
Pixels can be seen daily 5-9 January 2022 from 5pm to 10pm. Forum is also participating in the Lux Aamu on 7 January from 7am to 9am.