Cars burnt in the war in Ukraine smoke at the light festival – Lux Helsinki programme ready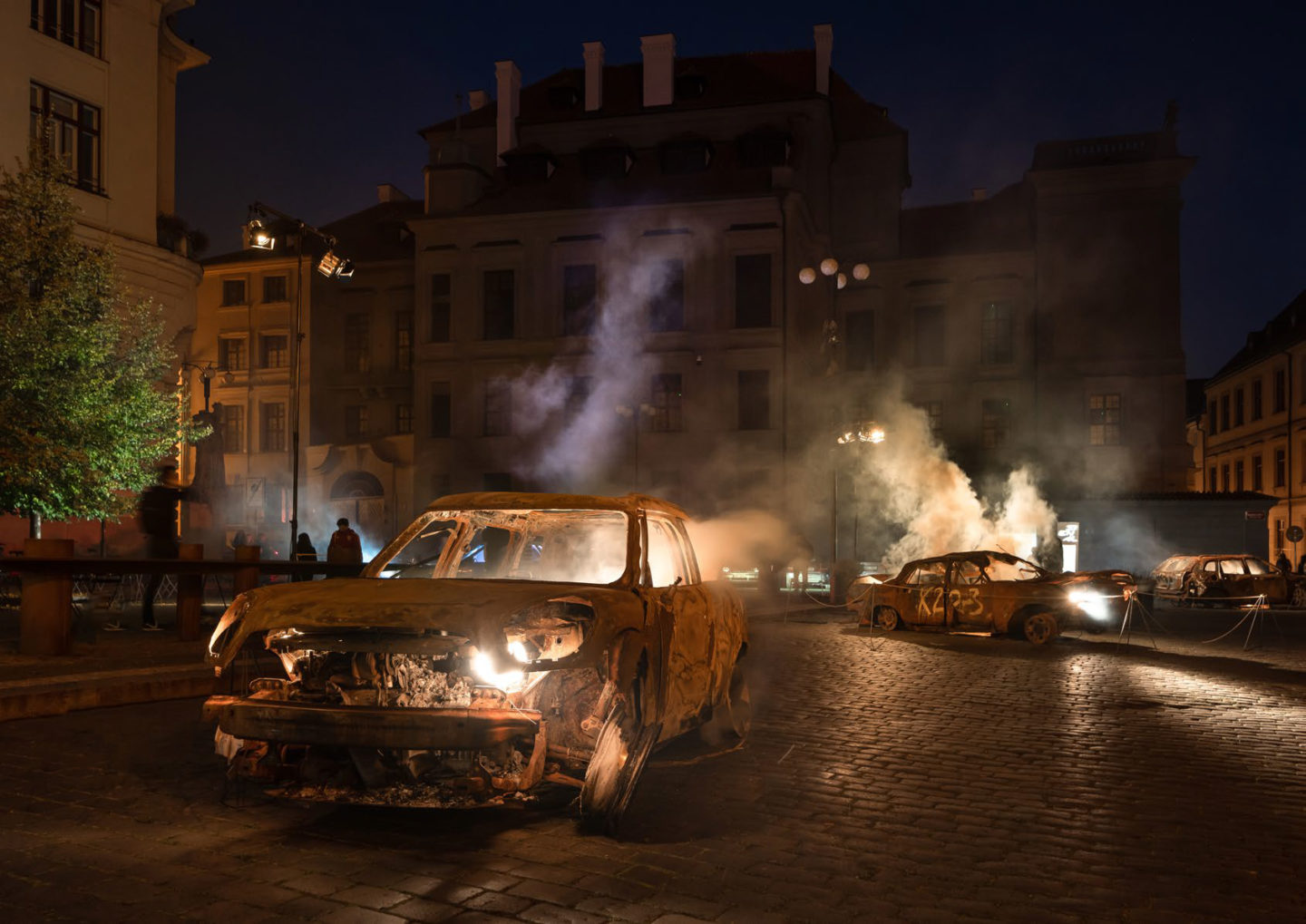 Lux Helsinki will be seen throughout the city: in addition to collections of artwork in the downtown, Ruoholahti and Suvilahti, light artworks can also be seen at Lux In, Lux Korkeasaari and at the cultural centres in Kannelmäki, Malmi, Itäkeskus and Vuosaari. Particularly arresting in its topicality is an installation that has just been added to the programme and which will bring traces of the war in Ukraine before our very eyes.
The Lux Helsinki programme is now ready and more than 30 artworks will be seen and experienced throughout the city. The festival has earlier been arranged along one route but this year there will be several collections of artworks to create more space to experience the art. The route-like collections of artworks can be experienced in the downtown, Ruoholahti and Suvilahti from 4-8 January 2023 from 17-22.
The Physical Possibility of Death in the Mind of Someone Living, which has been added to the collection of artworks in the downtown, may very well become one of the most thought-provoking experiences in the history of Lux Helsinki. Czech designer Maxim Velčovský will create a picture of the horrors of warfare through smoking cars burnt in the war in Ukraine. The cars infused with stories from Ukrainian citizens who have not only lost their belongings, but also loved ones and who have had to flee their homeland. Velčovský's work has earlier been exhibited at the Victoria and Albert museum in London and the Pompidou Centre in Paris, among other places.
"The best thing about the work is that it doesn't comment on anything, but brings us face to face with another reality. How fragile life can be, how everyday life can change in seconds. An arresting, thought-provoking work which is a reality just over a thousand kilometres away," says Juha Rouhikoski, Lux Helsinki's artistic director.
Artworks in cultural centres and Lux In add gallery-vibe to the programme
Besides the collections of artworks in the downtown, Ruoholahti and Suvilahti, art lightworks can be seen at cultural centres Kanneltalo, Malmitalo, Stoa and Vuotalo, which make light art even more accessible to the public. The works can be seen at the cultural centres during Lux Helsinki opening times, from 4-8 January 2023 from 17-22.
In conjunction with the collection of artworks in Ruoholahti, gallery-scale Lux In will now be arranged for the fourth time. The exhibition is held in conjunction with the Uniarts Helsinki Lighting and sound design programme. It is held in Valssaamo and Puristamo in the Cable Factory, and it is open from 2-8 January 2023 from 15–22.
Lux Helsinki is a free, accessible event for the whole family from 4-8 January 2023 from 17-22. Lux Korkeasaari runs from 26 December 2022 – 8 January 2023 from 10–19 and is subject to an admission charge. The festival is organised and produced by Helsinki Events Foundation. Lux Helsinki's artistic director is Juha Rouhikoski, whose curator team also includes Immanuel Pax, Lari Suominen, Mia Kivinen and Ilkka Paloniemi.
Lux Helsinki's partners are Korkeasaari Zoo, the Italian Cultural Institute, Polestar and Yle.