City Center, the whole city's meeting point, features a Lux Helsinki artwork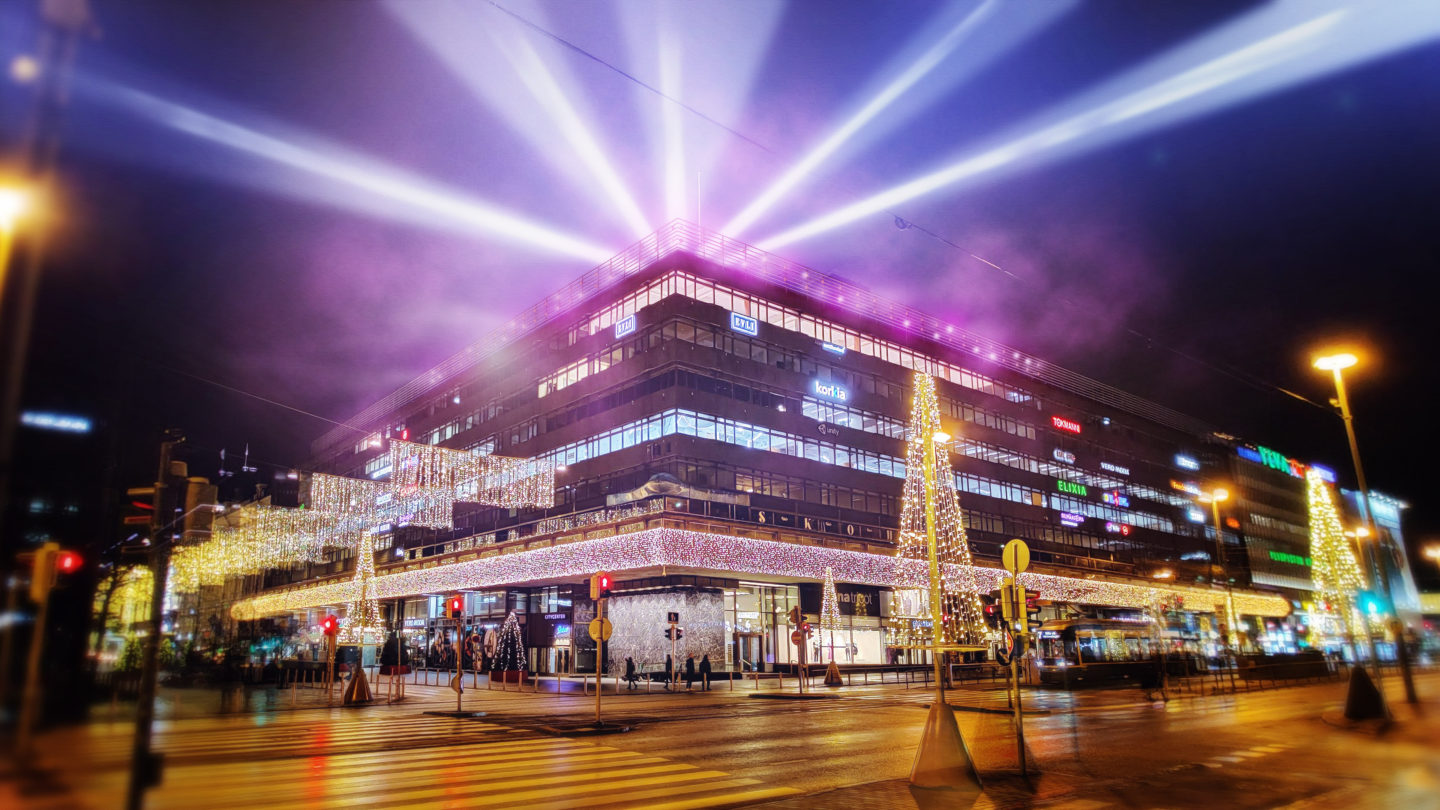 The City Center shopping centre is a distinct and unmissable city block, which during Lux Helsinki will become even more prominent. Otso Vartiainen's light artwork Bling the Roof will decorate the shopping centre on 5-9 January bringing joy and light to the inner city. Pixels, the other work in this double act, can be seen at Forum, City Center's sister shopping centre.
City Center's rich offering covers a wide spectrum. The heart of Helsinki provides services for many needs and a popular restaurant world encourages people to take time out amidst the hustle and bustle of the city. Lux Helsinki is open to all and seeks to bring light to everyone. Located in the heart of the city, City Center is beyond doubt one of the best places for this.
"We want to delight all Helsinki citizens and visitors to Helsinki. Bringing light to our shopping centre right next to the central railway station means we are excellently placed to do this," says Mervi Jäntti, Shopping Centre Director.
Since its completion, Makkaratalo has shone the beacon for new architecture. The block in the very heart of Helsinki bears the stamp of a number of acclaimed Finnish architects such as Viljo Revel and Heikki Castrén.
The shopping centre's roots date back to 1976. The protected building caused much debate in its time: the original name City-Center was nicknamed Makkaratalo (Sausage Building) due to its decorative railing which was said to resemble a sausage.
During the five days of Lux, the now acclaimed building will shine even more brightly. The light artwork planned for the City Center roof can be admired from many directions, delighting not just City Center visitors but also the inner city at large.
"It's great that thousands of City Center visitors daily will now enjoy an invigorating light work. We also have a wide selection of cafés and restaurants to stop off at after enjoying the light works. Welcome to enjoy Lux and take time out together", Mervi Jäntti says.
Bling the Roof can be seen daily 5-9 January 2022 from 5pm to 10pm. Citycenter is also participating in the Lux Aamu on 7 January from 7am to 9am.